If you've recently taken to two wheels, either digging your old bike out of the shed or buying a new bike or ebike, you'll want to make sure that it stays in tip-top condition
There's plenty you can do at home to keep your bike running well, but you should make sure that it's serviced regularly too, and that larger maintenance jobs are handled correctly. This will ensure all issues are identified quickly, potentially reducing the need for more expensive work later on.

Finding a bike shop you know will do a professional job, as well as thoroughly understanding the latest bike and ebike tech, isn't always easy. But Shimano, the world's largest bicycle component maker, is here to help with its worldwide network of Shimano Service Centres.

Each independent dealer is chosen by Shimano to offer you convenience, friendliness and expertise. They're also staffed by trained and certified Shimano mechanics, who understand the latest technology and will only ever use genuine Shimano replacement parts.
Of course, prevention is always better than cure. Here are some of the ways you can help maintain your bike at home...
1. Keep it clean
There's no avoiding it – your bike will get dirty as you ride it.

How dirty, and how quickly, will depend on where and when you cycle. If you're on muddy paths and trails it's going to need a clean down on a regular basis, possibly after every ride. If you're pedalling in the dry on city streets you might be able to go weeks without the bike looking too grubby.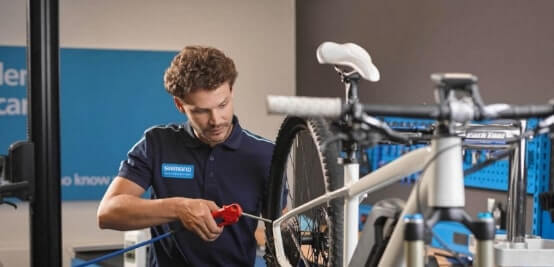 Even then, you will pick up a layer of dust and that's likely to stick most to your chain and other drivetrain components, which you need to keep lubricated to work efficiently. So, it's a good idea to wash your bike down regularly, ideally with a specialist bike wash, although soap and water will usually do the trick, too. Give it a good rinse with clean water and wipe it down with a clean cloth afterwards.


Be careful about turning a pressure washer on your bike. The high-pressure jet can get around the delicate seals on bearings, letting water in, washing off protective lubricants and potentially damaging tyres.
2. Lubricate
Keeping your bike well lubricated will prolong the life of your components and ensure that they're working at their best. That's particularly true of a bike kept outdoors, where rain can wash lube off your drivetrain and rust can quickly set in. But even a bike that's stored indoors and only used on dry days needs a regular dose of lubricant.


Before applying a coat of fresh lubricant to your chain, clean and wipe it down to remove any loose muck and dirt. Keep a cloth just for the task.


Then, apply a thin film of a quality chain lube. It will be formulated to avoid gumming up or picking up too much road debris as you ride. Shimano sells a range of lubricants designed to work with its products. Don't over lubricate because this will quickly attract more dirt.


It's not just the chain and gears that should be lubricated, either. It's important to look after the bearings on your wheels, headset and bottom bracket if you're to keep them running smoothly. To keep your shifting working well, cables also need to be lubricated.


If you think your bike isn't running at its best, talk to a professional at a Shimano Service Center. They'll take a look at it and identify any small maintenance jobs that are needed to keep your rides sweet.
3. Pump up your tyres
Keeping your tyres inflated to the correct pressure will make riding much easier. It also lowers the risk of pinch flats, where an inner tube is punctured because it has been trapped between the rim and a hard surface, like the edge of a pothole or kerb.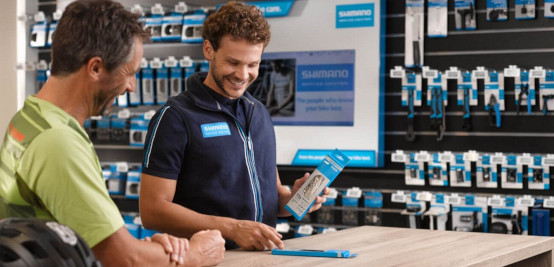 It's a good idea to check your tyre pressures before every ride. It's also worth investing in a floor pump with a gauge to make sure that you've got your pressure right.


You may find your tyres don't usually go down too quickly and a quick squeeze will show that they're okay. However, it's better to spot a slow puncture before it becomes a problem, rather than when you're off on a ride and end up needing to make a roadside repair.


You should also check regularly for damage and wear to your tyres. Road debris can cause deep cuts in the tyre's tread or get embedded in it, which could cause a flat or make it unsafe. A worn tyre may be less grippy, though a tyre that's worn to the fabric casing may result in a serious failure.


Many tyres have wear indicators built into their treads, which are highlighted in the tyre maker's mounting instructions. A Shimano Service Center can also advise on the severity of the wear.
4. Watch for drivetrain wear
You'll sometimes need to replace parts on your bike if they start to get worn. That's particularly true of the chain, which will inevitably stretch over time. That layer of grimy gloop that the gears develop contains dirt particles from the road and forms an abrasive paste that will reduce the lifespan of your components. It's a good idea to clean and apply more lubricant to your chain regularly. This should stop dirt building up.


If in doubt, it's another maintenance task that a workshop mechanic will be able to advise you on or do for you. The technician will check your chain for wear and let you know if it needs replacing.


If your bike has a rear derailleur, you might need to replace the rear gear sprockets on the cassette too, because they tend to wear at the same rate as the chain. You can also get a layer of gloop built up on the jockey wheels in the derailleur pulleys. If you accumulate too much it will damage their bearings or bushings and stop them spinning freely.


All of the above tasks are relatively inexpensive, especially when compared to the usually costly price of replacing the chainrings. Because chainrings have more teeth, they wear at a slower rate, so they're less likely to need changing.


If you're keen to tinker with your bike yourself, Freewheel with its full catalogue of Shimano Spare parts is the ideal first port of call to source the official part you need.
5. Check for brake and cable wear
It's not just your gears that need adjustment. Whether your bike has rim or disc brakes, the pads will also wear down with use. Check that the brake levers stop you effectively and they do not come into contact with the handlebar.


You can usually make small adjustments yourself to keep brakes working well; cable brakes usually have a barrel adjuster you can turn to tighten the cable, but hydraulic brakes may need bleeding. It's important to replace the brake pads before the braking surface has worn down completely.


It's also important to keep wheel rims and disc rotors clean for effective stopping and to avoid excessive wear. Again, this is something a Shimano Service Center can advise on. If something does need changing, they'll use genuine Shimano replacement parts.


Cables can also fray and wear out over time, particularly if the outer cable is damaged. A broken gear cable will see you stuck in your highest gear, but a broken brake cable can have more serious consequences, so check for damaged and frayed cables and seek advice if you need it.
6. Keep your wheels true
Bike wheels can easily be knocked out of true by bashes or can simply develop a slight kink over time.


It's another item to pay attention to. Spin your wheels to make sure they're running smoothly and that your brakes aren't rubbing.


A wheel rubbing against a brake pad will slow you down and wear through the pad. It's also likely to increase wear on your tyre and cause extra-worn flat spots. If your wheel isn't quite straight you should get it re-trued. It's a bit of a specialised job, so talk to your Shimano Service Center about having the work done.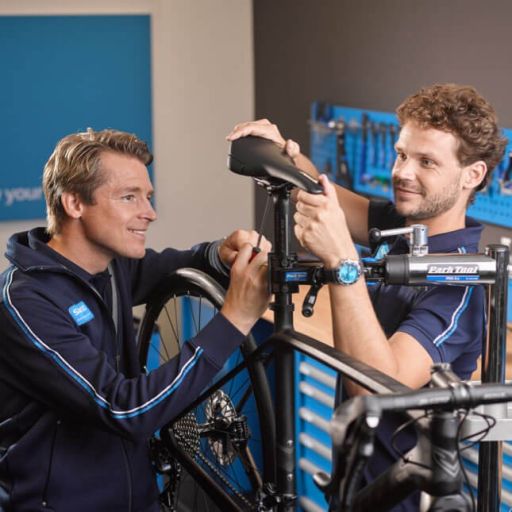 7. Insist on Shimano parts
When you do need parts replaced on your bike, there's a wide range of different options out there at different prices. It's tempting to go for the cheapest replacements, but the quality may not live up to the original, potentially resulting in a false economy.


If your bike uses Shimano components, use a Shimano Service Center for your maintenance jobs and you can be sure that you'll get genuine parts that will work perfectly with the rest of your machine.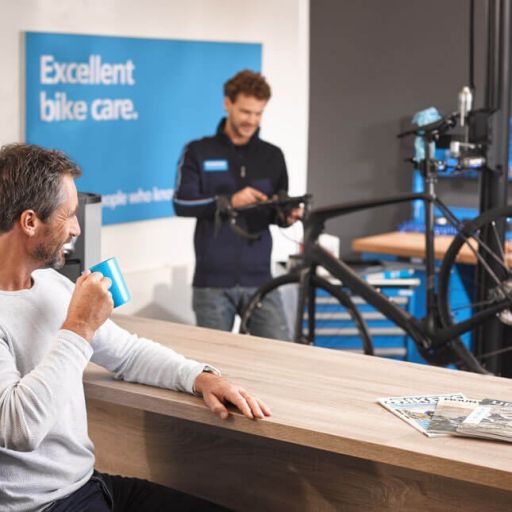 8. Consider Upgrades
Bike tech moves on rapidly, with innovations such as hydraulic disc brakes and electronic shifting appearing on more recent bike models. If you've got an older bike, some of its components may not feature the latest technology and it might be time for an upgrade.


The technicians at a Shimano Service Center will be up-to-date with the latest developments in bike hardware. They're all bike enthusiasts and will be more than happy to advise you on cost-effective upgrades.
9. Ask for advice
If your bike develops a rattle, it's not just annoying, it could mean that a bolt or component is loose, so it's a good idea to get it checked out.


The staff at a Shimano Service Center are there to provide all the advice you need on keeping your bike running smoothly. So, whatever your questions, it's always worth popping in and having a chat. They're trained in more complex tasks, too, such as updating ebike firmware and checking battery performance.


And, if you're planning on travelling with your bike, Shimano's global network of service centers means you're guaranteed the same quality of care worldwide.